Severine Fleming 
For 15 years I've run Greenhorns, making films, radio, guidebooks and multi-media for and about the young farmers movement. Every other year we put out a New Farmers Almanac, (https://greenhorns.org/almanacs/) we welcome you to get in touch about the 6th edition!I I have been an organizer and co founder of National Young Farmers Coalition and serve on the boards of Merwin Conservancy, Schumacher Center for New Economics, Farm Hack, Agrarian Trust and Savanna Institute.  Very glad to make a home for Greenhorns in this beautiful town of Pembroke, ME near Reversing Falls and to welcome visitors, campers and workshop attendees.   As we like to say " at the end of the berry rainbow".  
Brought up in Cambridge Massachussetts, my mother is Swiss and my dad is from Los Angeles– I've been lucky to experience a very diverse set of ecosystems and farming styles. I worked on alpine dairies, tropical agroforestry projects , I apprenticed at Camp Joy in Boulder Creek, CA was a trainee at the Kirstenbosch Botanic Garden in Cape Town, South Africa,  and at the Grow Biointensive! gardens in Mendocino, I did my permaculture training with the Bullock brothers on Orcas Island, WA started a luxury farm for the Standard hotel in Staatsburg NY, and created the biodynamic farm plan for a family citrus ranch in Southern California. I did finally get a B.S in Conservation/ AgroEcology from UC Berkeley. 
This is our 4th season here, growing fast, learning a lot, and expanding our programs with oxen, oysters and kelp, blueberries, cranberries, strawberries, raspberries,  mushrooms, ever expanding orchard and of course vegetables for the outdoor kitchen.  This past year we put in 100 currants, 25 quince and persimmons, 20 aronia, 20 elderberries and 30 kinds of weaving willow. Thank goodness for biodiversity! Thank goodness for all the mentors and elders and visiting experts.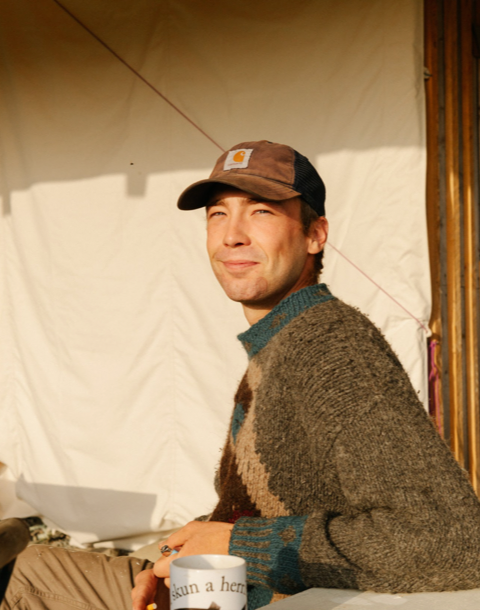 Terran Welcome
Terran Welcome is a young farmer born and raised in rural Maine. He holds strong ties to the highlands of our state and to our local bold coast. Terran brings with him a varied history of work experience; including multiple seasons with organic market gardening, several years spent as a farmhand on a commercial dairy operation, also as a co-coordinator/trip leader for youth wilderness outdoor recreation camps, and most recently as a private landscaper/caretaker. Terran is passionate about self-sustainability, utilitarianism and working to strengthen community with grassroots. A firm believer in the good life with high hopes to affect positive dynamic growth in all possible ways. You may find him in the field or on the farm caring for our team of oxen, out on Cobscook Bay hauling in a salty kelp harvest, or working maintenance at one of the many buildings and lands of the Greenhorns campus.
Here is a short list of many of the kind people who have helped Smithereen farm to grow:
Steve Brown did all the tractoring, mowing, stone moving and machine work at the farm
Ginny Maki made all the labels for our products
Raivo Vihman built most of the structures on the farm.
Mike Iancona built the yurts
Dan Paluska built all the composting toilets and mud ovens
Robby Cushman slaughtered most of the animals on the farm
Gil Whitehead cut most of the trees on the farm.
Colin Sullivan Stevens painted most of the signs on the farm
Rosy Keyster designed the mast head and painted murals
Bob Mcallister fixed most of the pipes and wires on the farm.
Jason Leighton plowed all of the snow on the farm and milled the lumber
Tom Baldwin laid out and helped plant the first orchard
Abby Barrows and Adam Campbell taught us about farming oysters
Elijah Brice taught us about farming kelp and hauled all the kelp in his boat.
Evangeline Krajewsk tended the farm lovingly for 2020-2021 seasons
Jon Leavitt has documented us and taught us birds on the farm
Jim Kovaleski taught scything lessons to all the interns
Regina Grabrovac pruned all the apple trees
Vidar Bay built the timberframe and made all the seedling trays
Jenn Eager grazed her sheep on the pastures, taming and improving them.
Margie Chambers cut the trails, inoculated logs and planted all the strawberries and raspberries and harvested seaweed
Tide Mill farm kept their cows on the land, taming and improving the pastures
Lydia Lapporte organized lots of spreadsheets and paperwork for the farm and seaweed commons
Peter Kirn catalogued most of the books in the library
Branan Buehner pushed back the forest edges and made lots of mulch for the farm
Tucka B set up the beehives
Jacob Smoklinski hauled endless seaweed to compost the orchard
Mike Reddy did lots of shingling and fixing on the farm
Asher Kaplan made lots of beautiful bread
Colin McMullin built the drying racks and gave us a kitchen sink
Matt Lippencott and Joe Bossen advised us on equipment
Lucy Zwigard set up the Hipcamp program for the farm
Noah and Elizabeth Smith made lovely movies about the farm
Rachel Darke took great photos
Paul Molyneaux taught us catch and process Mackrel
Brett Cicotelli taught us to dip and smoke alewives
Kate Morgan set up so many of the office systems
Tim Nelson did all the wood stoves and roof shingling
Haley Marketos harvested and pressed the most of the apples
Marcus and Malcom did a lot of shingling and mowing and grant writing
Eric Francis re-clabbered Grey Lodge and Farm Shop
Grant Shultz and Mike Change brought us the Mycological Lab equipment from North Carolina
John Cox fixed all the windows in Odd Fellows Hall
Trevor Hold put a new roof on Grey lodge and Elver
Patrick Mehar cleaned all the chimneys
Alex and Flor Wolfe painted walls and halls all winter long
Louis Hudson cleaned and organized the Odd Fellows Hall
Tareq and Sam and Reid did a lot of painting, building and mowing and farming
Andy fixed the heating in the Odd Fellows Hall
Jonathan Hall advised us on repairs to the Odd Fellows Hall
Eric Holms tested all the water
Odessa Piper made recipes for our products
John Morris taught us all the regulations
Markley Boyer taught us mapping

Rachel Bell made a lot of blueberry jam
Rachel Alexandrou made a lot of blueberry jam
Jarrod Fowler advised us on pollinator habitat and native plant selections
Sarah Wenzel fisher made the clothesline and got us on slack
Dave Olsen built the greenhouse and smokehouse
Ryan Redmond and Brian Priest fixed all the cars many times
John Melby sold us most of the furniture, cheap!
Dan Colby fixed up the farmhouse before we got here
Renata von Tscharner sewed all the cushions and all the tablecloths and all the holes