Severine Fleming 
For 15 years I've run Greenhorns, making films, radio, guidebooks and multi-media for and about the young farmers movement. Every other year we put out a New Farmers Almanac, (https://greenhorns.org/almanacs/) we welcome you to get in touch about the 6th edition!I I have been an organizer and co founder of National Young Farmers Coalition and serve on the boards of Merwin Conservancy, Schumacher Center for New Economics, Farm Hack, Agrarian Trust and Savanna Institute.  Very glad to make a home for Greenhorns in this beautiful town of Pembroke, ME near Reversing Falls and to welcome visitors, campers and workshop attendees.   As we like to say " at the end of the berry rainbow".
Brought up in Cambridge Massachussetts, my mother is Swiss and my dad is from Los Angeles– I've been lucky to experience a very diverse set of ecosystems and farming styles. I worked on alpine dairies, tropical agroforestry projects , I apprenticed at Camp Joy in Boulder Creek, CA was a trainee at the Kirstenbosch Botanic Garden in Cape Town, South Africa,  and at the Grow Biointensive! gardens in Mendocino, I did my permaculture training with the Bullock brothers on Orcas Island, WA started a luxury farm for the Standard hotel in Staatsburg NY, and created the biodynamic farm plan for a family citrus ranch in Southern California. I did finally get a B.S in Conservation/ AgroEcology from UC Berkeley.
This is our 4th season here, growing fast, learning a lot, and expanding our programs with oxen, oysters and kelp, blueberries, cranberries, strawberries, raspberries,  mushrooms, ever expanding orchard and of course vegetables for the outdoor kitchen.  This past year we put in 100 currants, 25 quince and persimmons, 20 aronia, 20 elderberries and 30 kinds of weaving willow. Thank goodness for biodiversity! Thank goodness for all the mentors and elders and visiting experts.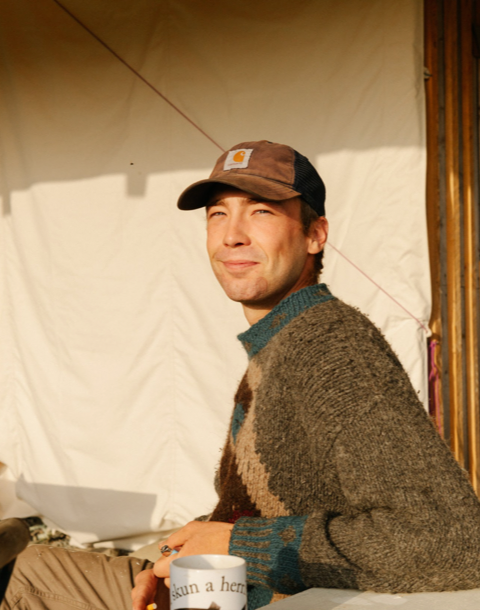 Terran Welcome
Terran Welcome, 25, is a young farmer born and raised in rural Maine. He holds strong ties to the highlands of our state and to our local bold coast. Terran brings with him a varied history of work experience; including multiple seasons with organic market gardening, several years spent as a farmhand on a commercial dairy operation, also as a co-coordinator/trip leader for youth wilderness outdoor recreation camps, and most recently as a private landscaper/caretaker. Terran is passionate about self-sustainability, utilitarianism and working to strengthen community with grassroots. A firm believer in the good life with high hopes to affect positive dynamic growth in all possible ways. You may find him in the field or on the farm caring for our team of oxen, out on Cobscook Bay hauling in a salty kelp harvest, or working maintenance at one of the many buildings and lands of the Greenhorns campus.