Severine Fleming, Owner
I've dreamed of having my own small farm since we started a permaculture orchard on an abandoned corner of the Pomona College campus in Southern California. Pat Chapman adopted us to come live at her ranch up on the mountain, she like our enthusiasm but decided we needed some proper training! She put me on a Greyhound bus to Ecology Action, in Mendocino to learn Bio-intensive gardening. Those were my first redwoods and that road trip inspired many more — for 13 years I've run Greenhorns, making films, radio, guidebooks and multi-media for and about the young farmers movement, and running mixers and events. I also co founded National Young Farmers Coalition, Agrarian Trust and Farm Hack and serve as advisory board member to Savanna Institute and Merwin Conservancy and Schumacher Center for New Economics.

Greenhorns is still going strong and has its headquarters down the road from Smithereen Farm. I'm still very much a greenhorn when it comes to farming with so much still to learn, thank goodness for all the mentors and elders! I apprenticed at Camp Joy in Boulder Creek, CA was a trainee at the Kirstenbosch Botanic Garden in Cape Town, South Africa, and finally got a degree in Conservation/ AgroEcology from UC Berkeley. I did my permaculture training with the Bullock brothers on Orcas Island, WA started a luxury farm for the Standard hotel in Staatsburg NY, and created the biodynamic farm plan for a family citrus ranch in Southern California. And I must recommend woofing (www.wwooof-usa.org) and helping out at alp dairies! (www.zalp.ch)

I moved to Downeast Maine for the algae, and the utterly glorious wildness—a historic region of seafarers, of native and settled-in fisherman, of foresters and homesteaders. This landscape hosts a compelling curriculum of commons management and natural-resource governance issues which we explore with our www.seaweedcommons.org project. Cobcook Bay's 20-foot tides and cold Labrador currents means that micro and macro algae drive a surging marine ecology that attracts schooling fish, whales and migrating birds. Our job is to figure out high-value products to make from what grows plentifully here: we have begun making fermented fish sauce with the herring, cushions from the balsam fir, vinegar from the feral apples, tea with the rosa rugosa petals, soup mix with the seaweed and mushrooms, and of course wild blueberry jam.

Nature's larder is vast and as we gear up with dehydration and distillation we'll be able to capture the essence and preserve the goodness of many more species. If we succeed it will be as a cooperative producing high quality, delicious, irresistible value-added products. Looking forward to welcoming you for a visit. Our farmstand will be open in June.
Lydia Lapporte
Joyful to attune to Maine's wetness, I followed algae to Maine through the seaweed commons learning project in 2019. And I've stayed on in the wake of the fall asters to make smithereen's value added products as a part of an integrated land/sea farm ecology. Here, my role is keeping with the farm office, and organizing the blueberry, algae, oyster, artist, and mushroom operations / programming. I learned to shelve and catalog at the agrarian library down the road — thinking land reform, critical food studies, and natural-cultural histories together. Mostly working with kids and nonprofits and books, I'm interested in ecologies and pedagogies all around. I studied art and environmental humanities in school and am glad for a place so close to the water to integrate and enact those learnings. Textures delight: wheat stalks and beach grass, kelp and weaving in the foggy morning.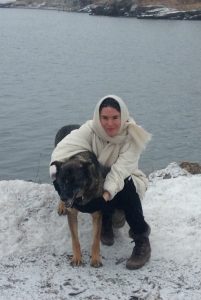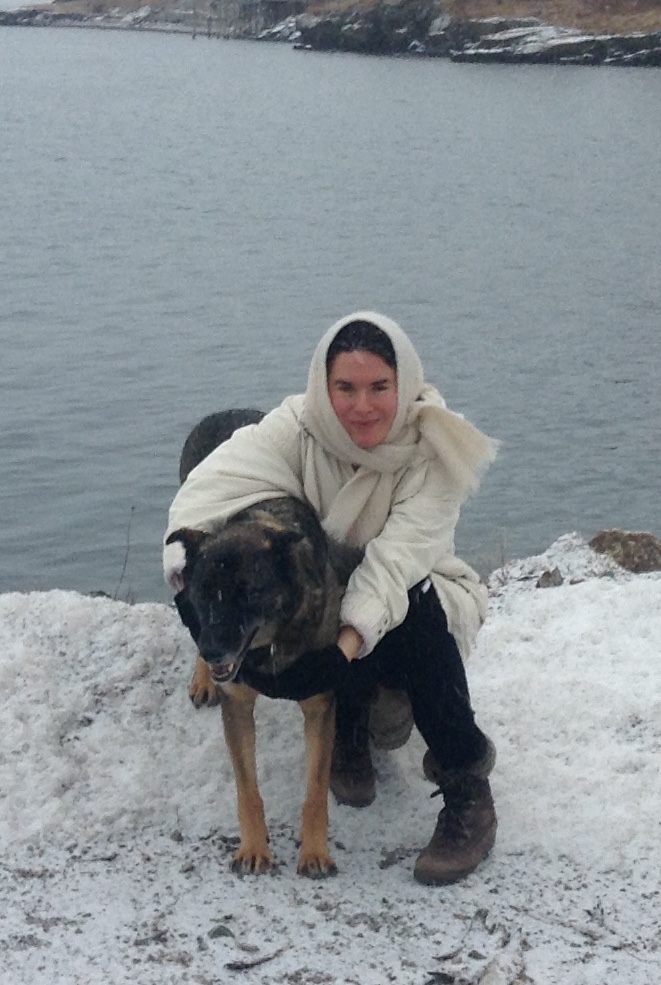 Evangeline Krajewski
Evangeline grew up in North Central Pennsylvania and now lives in Downeast Maine. She tries her best to keep up with the farm!